At first we weren't planning on taking Tanner trick-or-treating this Halloween since we didn't think he would enjoy it.
Earlier in the day we got all dressed up and went to Grandma Stark's work and went trick-or-treating with her. Tanner absolutely loved it! He was so cute walking up to the different desks, taking a piece of candy and putting it right into his bucket.
So we decided to go to just a few houses up in Grandma and Grandpa Cannon's neighborhood since we were going to go hang out with them anyway.
Clark, Megan and Andrew showed up so we all went together along with Aunt Becky and Grandpa.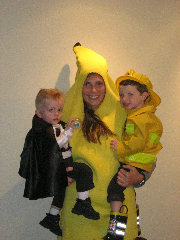 Just a few houses turned into 2 whole blocks! Tanner had so much fun and we just loved watching him.
There was one house we went to that freaked him out though. The person that answered the door had a scary clown mask on and he didn't even want to take a sucker (which are his favorite) from the bowl. He refused to take his eyes off the scary clown and I don't even know if he noticed the candy.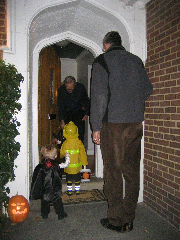 The next 5 or 6 houses after that he wasn't happy about me putting him down in front of the door until someone answered it and it wasn't a scary clown. He eventually got over it and was all over going and getting candy and trying to walk into random people's houses.
He came home with quite the haul of candy (for Mom and Dad)!